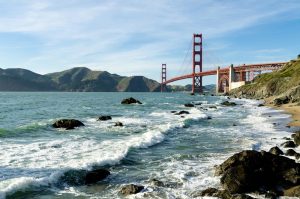 A customer's need for Bay Area marketing tips and local engagement with their customers in Sonoma County is critical.
New customers eventually become regulars, and the initial excitement of the having their needs met wears off.
Local businesses searching for Sonoma County SEO services (to increase online exposure) must first cultivate a sense of attachment of existing customers to guarantee continued sales.
Don't you agree?
Renewing the connection with their clients won't require the professional services of a Santa Rosa marketing firm.
Here are some ideas businesses can try this year:
1. Personalize products and tailor local marketing services better
Borrow a leaf from Coca-Cola's 2014, 'share a coke' campaign where customers had the chance to purchase cans with their names printed on them.
Local business may give their clients apparel imprinted with their names, personalized calendars, travel mugs, quality pens with a flashlight on the end, something useful that creates a memorable connection between you and them.
Know your customer's names and address them in a friendly way; it's guaranteed to wow new customers while keeping old ones happy.
Instead of email, send a birthday postcard with a handwritten note to your customers. Love social media?  Post a happy birthday GIF on your company Facebook page and tag your customer.
Giveaway a pie during the holidays to all your customers. Your customers will thank you and it gives you a chance to meet them face to face at your establishment. You can order them in bulk at Costco or hire your favorite local baker to get a little bit of business to business relationship building going.
2. Sponsor local charitable activities or green initiatives
Businesses that participate in activities that benefit the whole community are more adored.
A marketing firm that doesn't advocate this is missing on showing a warm side of the business.
Showing interest in local affairs is the right way to have more people talking about you in a positive way. Some of the local organizations that Santa Rosa marketing company are involved with are Rotary and the local food bank. Other ideas for Bay Area local businesses are: plant a tree, local children's organizations like Boys and Girls Club, support farmer's markets.
A new buzz drives business your way, and people love organizations that give back.
3. Make your online interactions personal and manage online interactions with care
Having a social media account with 100,000 plus users is not enough.
Make each one (if possible know their real names) a good friend and go the extra mile to learn about their challenges. Also, comment on user posts with positive messaging.
A marketing firm will typically send emails that go, "Hi First Name"; try using two names and see the difference. Use their name a second time in written communication – perhaps "thank you, First Name".
You can also surprise users with personalized holiday cards.
4. Create new ways for customers to experience your products
Heard of 360 interactive videos? You can create one like BMW, which gave users a simulated feel of sitting behind the wheel of a fast, expensive supercar.
An interactive 360 video of new products; walk-through of the store or behind the scenes exposure of how the business functions are unique pieces that customers love.
Create a GIF that shows real people using your products. Capture why the product makes the customers' lives better and show that off.
If you find this process somewhat challenging, with a professional marketer, you can rekindle the once passionate love the customer had for your business.
Businesses are free to access the services of any Santa Rosa marketing firm; however, not all will provide useful insights on how to hold onto high-value customers.
5. Be humble. Ask for your client's feedback. Listen. Say, Thank you.
It is too easy to slip into a relaxed mentality about customer service. To keep customers coming back and to create raving fans, be humble. Do not assume your customers
Do not assume your customers are happy. Ask them. Take the time to ask your clients for their feedback. You can send out a survey using Google forms or take the time to take a new customer aside to ask them to tell you candidly what their experience was like.
Listen to what they have to say without interrupting or offering excuses. Tell them you appreciate their feedback as it's important to your business to learn and make changes as
Businesses that value their customers perspective show their coachability and sincerity.
Say Thank you – often. Adopt an attitude of gratitude. That will keep your employees happy and productive. Gratitude will transform happy customers into raving fans that return and refer you.
If you're in need of a custom website design in Sonoma County before you branch off into SEO land, request a free quote here or call us today at (707) 544-3390.
Or visit our office at 2525 Cleveland Ave, Suite G, Santa Rosa, CA 95403.