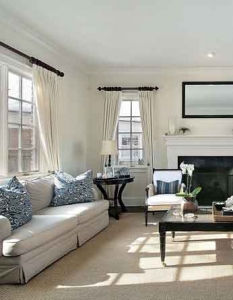 Back in 2006, we were floored when Marin and Sonoma Counties leading flooring design center asked us to walk into their marketing world. City Carpets owners, Hossein and Leigh Bakhtiari wanted to expand their reach into the homes and businesses of the North Bay, and we were only too happy to provide options to do just that.
Over the years the company has grown and in part due to the continued presence in select North Bay media. We have been the creative arm of City Carpets providing high-end graphic design for multiple print pieces from magazines to newspapers and direct mail. Our television production has included custom commercials promoting products and location, while we also modified TV materials provided by affiliated carpet and flooring manufacturers to promote the store, its staff, and designer clients.
City Carpets is a Stainmaster® Flooring Design Center and a Carpet One store. They have a huge selection of carpet including the highest quality wool carpeting in addition to hardwoods, laminates, luxury vinyl flooring, and much more. The knowledgeable staff is always up to date on the latest products,  and installation techniques.
We have a feeling that when most people walk into a room, they instantly see the impact a floor can have in the design of that room. City Carpets can make that first step a memorable one for any home or business because flooring makes all the difference, whether you are looking for rich maple wood floors, or the perfect patterned carpet to compliment your room, City Carpets has the best flooring selection available in the North Bay.
We consider ourselves very fortunate to work with individuals who always go above and beyond to ensure their customers are happy. If you require quality flooring, look to the team at City Carpets, because it is so much nicer to get out of bed in the morning when a plush and cozy carpet greets your toes!
Part of our Client Corner series showcasing small business owners in the Bay Area.