Five Common Social Media Mistakes To Avoid
Social media is one of small and medium-sized businesses most important marketing channels. A well-developed social media plan increases your business's awareness, which means more interested customers.
But social media is not without its pitfalls. And, there is an expectation of a certain level of quality from social media posts and media. Not having that quality can convince your readers that your business is not worth their time, which is a critical first impression you can never get back.
So, what are the five most common social media mistakes you can easily avoid? They are-
1-Being Too Impersonal Or Too Personal On Your Social Media Account
Even if they don't know what is happening, people can tell a lack of sincerity or personality when interacting with people. And that is something you can't have with social media, as you want people to believe in your interactions with them. So, you can't be too impersonal in your social media posts. Don't post the minimum words on the subject unless you have a character limit (like Twitter) or a time limit (like TikTok). Give the post some personal flare and engagement, and let people feel like you're sharing great things with them. 
You don't have to be relentlessly upbeat, but you don't have to share every little thing about your life on social media. It's possible to have too many posts, posts that aren't on the subject, and posts that aren't relevant to your business. 
Striking a balance between these two is tricky, but has to be done to find that "sweet spot" for your social media.
2-Not Making Your Content Mobile-Friendly
With at least seventy-nine percent of social media users accessing their accounts on their phones or tablets, your content has to be mobile-friendly. If it isn't mobile-friendly,  it will be easily ignored or discarded for content that is mobile-friendly. 
Making your content mobile-friendly isn't too difficult with some planning. Colorful images that aren't too complicated or require you to zoom in to find vital information, straightforward copy that is easy to read, and that is posted in the right place is what you should be doing with all of your social media.
Marketing
that works
Take advantage of 20+ years of experience
At Boylan Point, we have the tools to create an effective marketing strategy that targets your business goals. Allow us a few minutes of your time and we'll show you a different kind of marketing agency. Guaranteed.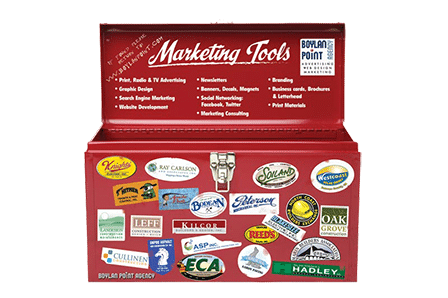 3-Sharing Low-Quality And Inaccurate Content
Your social media account is often the first impression anyone gets of your business. If your content is of low quality, they'll wonder why they should have anything to do with you. And, if your content is inaccurate, they'll wonder if anything else you will post is accurate. 
Most customers won't take a chance after being burned by someone on their first meeting. The old expression "you never get a second chance to make a good first impression" is essential here. Any content you post is content you should be proud of.
4-Not Engaging With The Audience
One of the most important things about social media is the social part of it. Social media means you must pay attention when people reply to your posts and be social. It means you need to notice what is going on with your posts strategically.
If there's a good question or reply made to a post, definitely reply to it! Even if nobody else comments on it, it doesn't look like you're just scattering social media posts to the wind. When you find people spamming or trolling your posts, definitely clean them out and report the spammers. 
5-Do Not Waste People's Time
There are a lot of pages and groups on social media, and your posts have to compete with them all. People have only so much time to read everything they get online, so you must be careful to make what you read worth the time they spend on it.
This means that your posts have to be on-topic and to the point as much as possible. You shouldn't be curt or rude; that's about as bad as being impersonal. But don't meander, and don't let your posts wander around. Give them the information they need, in a way that they can enjoy, and be done with it.
Conclusion
Most of the time, social media mistakes are little things that are easy to avoid. They don't happen because of malice, but out of ignorance. Most of the things you need to do are easy enough to do, once you know what you're doing.
If you need help managing your social media profile, you should contact the Boylan Point today. We can help you to set up your social media accounts, build your website, and handle "traditional" radio and TV marketing.
Bring your marketing to the Boylan Point today.
2525 Cleveland Ave, Suite G
Santa Rosa, CA 95403