Five Tips To Market Your Construction Company

Your construction company needs to be marketed, just like anything else in this world. Because, if you don't, people that are marketing their construction companies will get people's attention and their business.
But, if you're a small construction company, you might not have the budget for any marketing to start out with. The good news is that you can do quite a bit on your own. The only thing you have to do is be willing to commit the time and a little bit of money to create a basic marketing plan.
Here are five ways to market your construction company, and most of them you can get started on today. 
Have A Plan
Unless you're going to outsource your marketing, have a plan for your marketing. It's not that difficult to plan out your marketing, but it does take time.
This is why you have a marketing plan. Like anything on your construction schedule, you have to plan the lead time for things like graphics, written content, and anything that has to be ready on a particular day. Keeping a simple schedule with Google Calendar with alerts to remind you when deadlines are coming is vital.
Often, marketing fails for small businesses because there isn't a plan. Even a simple plan of "post job site photos every Tuesday morning on Instagram" is better than not having a plan.
Have Social Media Accounts
Social media is one of the biggest ways for any small business to keep in touch with its customers. It's easy to set up a business account, you only have to post once a week on a regular basis, and this gets people paying attention to your business.
Every construction business should be on the following platforms-
Facebook (the largest social media platform out there)

Instagram (easy to post from Facebook, and the visual nature of the platform helps with construction companies)

Google Business (this ensures that your business shows up on Google maps and helps with your search engine presence)
Once you're on these platforms, you might want to consider some other platforms-
LinkedIn (good to find people needing someone to work on home and small commercial sites)

LocalDoor (good for finding local jobs for small projects)

Pinterest (if your business does a lot of remodeling and rebuilding, this is a great place to show "before" and "after" photos)
Don't get on a social media platform just because you can. Only be on the platforms that you can post on a regular basis. Having a "dead" account or an inconsistent account might be worse than not having one at all.
Marketing
that works
Take advantage of 20+ years of experience
At Boylan Point, we have the tools to create an effective marketing strategy that targets your business goals. Allow us a few minutes of your time and we'll show you a different kind of marketing agency. Guaranteed.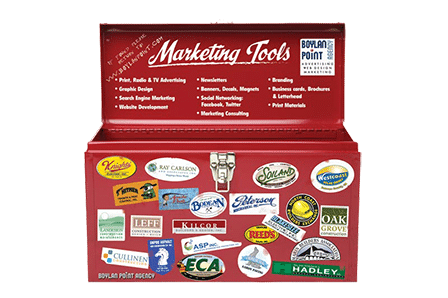 Be Consistent On Social Media
Having a consistent posting schedule establishes something for the people looking at your social media. If you're consistent in a small thing like social media, you're consistent in big things like any construction work that you would do. One of the best times to post is between 9 AM and 1 PM on a Tuesday, Thursday, or Friday, but you might have to experiment to see what is perfect for you.
Remember to choose a time that you can post on a regular basis. Even if it's outside of an "ideal" time slot, you want to be consistent. People should begin to associate when your posts come out at a particular time. This builds up an expectation to see your content and that keeps your company's name in their thoughts.
Have A Website (And Keep It Up To Date)
Even if you have social media, even if you have it up to date, nothing beats having a website. Even if it is just a single-page landing page with a few photos, a testimonial or two, and your contact information, having a website means that you have a permanent presence.
And, this permanent presence has a number of advantages. From making it easier to anchor Google Ad campaigns to future expansion, even a simple website will make it easier for customers to find you.
Be Patient, But Pay Attention
Campaigns take time for your message to get into people's thoughts and think of you as time goes by. Your marketing plan should be based on a 45-to-60-day cycle, where you assess how the campaign is going at the end of the cycle. This assessment will help you to determine if you want to keep the current campaign going the way it is or make any adjustments.
But, unless the campaign is going badly, you should keep the campaign itself going for at least a year, then revisit it completely. Sometimes, campaigns take a while to take off, and suddenly changing gears won't help you.
Conclusion
For a small business of any kind, marketing might be the difference between an average number of customers or an extraordinary number of customers. The only issue is that a good marketing campaign takes time and thinking in different directions than most parts of your business. These five ways to market your construction company are a good start, but there is more you can do.
If you need help with your marketing, from website hosting to creating a business logo, why not contact the Boylan Point? With over twenty-five years of experience in marketing in Sonoma County, we offer a wide variety of options for your business needs.
Take your marketing-and your business-to the Boylan Point today.
2525 Cleveland Ave, Suite G
Santa Rosa, CA 95403