How To Create A Marketing Plan
A marketing plan for anything-a new product for your business, a new movie, anything that has to get people's attention-doesn't just appear out of nowhere. It's the end results of planning, research, questions asked, and some experimentation in what you need to find the right audience for your ads.
So, how do you create a marketing plan?
There are six big steps in the creation of a marketing plan, and these are-
Know Your Target Customer And Product


This sounds like it's obvious, but it's a question that has to be asked. What are you selling? And

who are you selling

it to? Both questions will determine

everything

in your marketing plan: what channels you'll use to reach your customers, what your ad content will be, and when to start and when to finish your campaign. These are questions that you have to answer and you have to answer them honestly.

What Is Your Competition Doing?


When deciding what you'll do with your marketing plan, what are your peers doing? You don't want to copy their strategy, because that makes you look like you're just following in their footsteps. But, you can see what works and what doesn't work-is their marketing finding their target audience? Are they using the right channels? Are they

not

using a channel that you could use to reach your target customers?





It's easier, faster, and cheaper to learn from other people's mistakes and their successes.

What Resources Do You Have?


If you can't afford to do a massive, multi-channel campaign with everything except the Macy's Thanksgiving Day Parade,

why are you planning a campaign that needs those resources?

If all you have is a few photos of your product and a little bit of money, use those resources to the fullest. Boosting your pages on Facebook is relatively easy to do and doesn't cost a lot of money. If you have money to do more, do more. But, don't plan a campaign where you'll only be half-complete when the money and resources run out.





Avoid the issue of false economy when you're planning, as well. If you

have

money in your marketing budget, use it all within reason. If you can run a secondary campaign, run it to catch a demographic your primary campaign might not fully reach.
Marketing
that works
Take advantage of 20+ years of experience
At Boylan Point, we have the tools to create an effective marketing strategy that targets your business goals. Allow us a few minutes of your time and we'll show you a different kind of marketing agency. Guaranteed.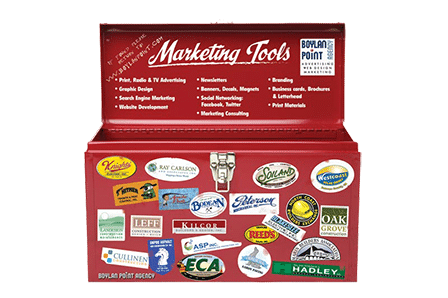 Get Your Plan Out There


Learn when the best time is for people to look at your ads, within your budget. Do you start a Facebook campaign early in the morning, to catch people that are commuting to work? Run your radio ads late in the evening when people are getting ready to head out for the night?





When you know what the right time is, deploy your campaign. And, watch

the performance metrics

on a regular basis, to see how your customers respond.

How Well Is Your Plan Working?


This is something you should be looking at on a regular basis. If the plan is working out well, maybe you should continue it or use it as a springboard to your next marketing plan. If it isn't, are you choosing the right demographic or channel for your advertising? Or, maybe you need a whole new plan, one that covers things that you didn't expect when you first started.





No matter what, watch how your plan is working, check out your performance metrics, and learn from the experience.
Get Ready For Your Next Marketing Campaign


So, everything has worked right, and your marketing plan has worked out better than you expected. Or maybe it was about average. Perhaps it didn't work out the way that you expected, at all. But, you know what your planned ad campaign did, and what the end result was. So, now it's time to plan for the next ad campaign.
Marketing isn't a sprint, it's a marathon. As long as you don't have a horrible ad plan, you'll have a chance to try again. Learn what worked, learn what didn't work, and get ready for your next campaign.
When you decide to get your marketing campaign off the ground, why not ask for the help of someone that has done this before? With the help of the Boylan Point Agency, we can work on a marketing plan that can combine everything from search engine optimization to buying radio and TV ads. 
So, when it's time for you to figure out your marketing plan, contact us and let's make your plan spectacular.
2525 Cleveland Ave, Suite G
Santa Rosa, CA 95403