How To USe A Newsletter To Drive WEbsite Traffic
One of the best tools you can use to keep your customers informed is an e-mail newsletter. Sent on a regular schedule, you can inform your customers of sales, special product releases, holiday closures, and other information that can turn a maybe sale into a yes purchase.
But, like all tools, you need to use your newsletter properly to find and keep customer attention. Some of the things you can do with your newsletter include-
Post On A Regular Schedule-With very few exceptions, you don't have to send more than two newsletters a week, and you should be prepared to send at least one newsletter a month. Regardless of how often you send, you need to have a schedule and send on that schedule regularly. 
Make It Easy To Subscribe And Quit-Your newsletter subscription page should have a specific landing page that people can use to enter their information. And your link to the unsubscribe page should always be functional.
Use A Consistent Format-The format of your newsletter should always remain reasonably consistent from issue to issue. If you have to change things, change them, but don't change them too often.
Marketing
that works
Take advantage of 20+ years of experience
At Boylan Point, we have the tools to create an effective marketing strategy that targets your business goals. Allow us a few minutes of your time and we'll show you a different kind of marketing agency. Guaranteed.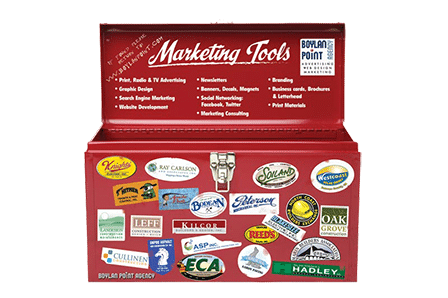 Keep Your Content Short And Sweet-No individual item in the newsletter should be more than a thousand words and you shouldn't put a large number of photos in the newsletter. If you need to write something longer, use the newsletter to send people to an article or blog post on your website. 
Make It Worth Their While-Any sales or specials that you use in the newsletter should be as exclusive as possible. Being a subscriber to your newsletter should have some rewards and having people talk about the newsletter special is going to get more people to sign up.
Tie It To Your Website-At the end of the day, you want people to come to your website, so your content should always funnel towards your website. You want people to use the newsletter as a funnel toward your website and your content.
Setting up a newsletter is an important step in your company's marketing plan. And, a part of that marketing strategy is having a marketing plan. If you need to develop your marketing plan, from SEO to native advertising, we're here to help. Contact Boylan Point today to discuss what we can do for you.
2525 Cleveland Ave, Suite G
Santa Rosa, CA 95403