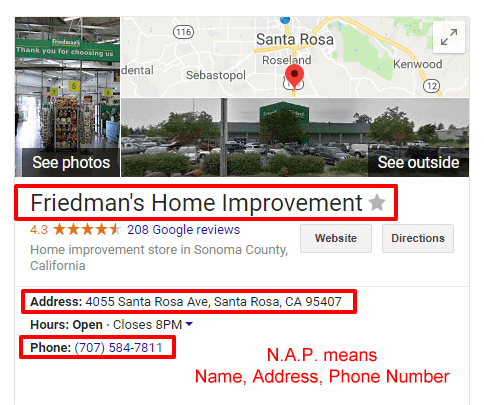 Phone number SEO (search engine optimization) is a term coined by JL Faverio while working at Boylan Point Agency.
It relates to the better well-known acronym NAP, meaning Name, Address, Phone number.
And NAP is a huge Google ranking factor in local search results and Google Maps.
To the right of your screen is a local company's Google My Business listing, also known as a Knowledge Panel.
This is what Google displays when users search for a branded term, or company name, such as Friedman's Home Improvement in this example.
If you see inaccuracies in your company's information, especially within the NAP, then so will your potential customers.
Consistency is huge for Google as it increases trust.
Trust is huge for your local customers.
And let's be honest, inconsistencies in your business information is just embarrassing.
So, what can be done?
How can your business correct these inaccuracies?
The simplest solution is to give Boylan Point a call at (707) 544-3390 or email us here and we'll do the hard work for you.
Or, you can purchase a local citation subscription on one of the recommended local citation tools below:
Our SEO consultants use Moz Local for our local SEO clients – in fact, we add it to our local search engine optimization campaigns – as we know how valuable it is in helping to grow website traffic and increase brand awareness.
Later, we'll compare the 3 local citation tools above, but for now, let's get back to phone number SEO.
PHONE NUMBER SEO IS CRUCIAL TO YOUR BUSINESS FOR THE FOLLOWING REASONS:
Consistency: you do not want any discrepancies when it comes to your business, and your phone number is no exception. Here's why consistency is so important for your business.
Google ranking factor: your (accurate) business NAP is a ranking factor in Google, especially in local map packs. View the 2017 Local Search Ranking Factors yourself.
Rememberability: yes, it's a word, Google it! When your phone number is consistent and uses the format with parentheses [ example: (123) 456-7890 ] it becomes easier to remember, as your brain translates your phone number as an image instead of a string of random numbers.
Now the last example is just the experienced opinion of our lead SEO consultant, JL Faverio – we have no scientific proof – yet.
But consider this…
How often have you seen a phone number and forgotten it? Did it have parentheses or was it just dashes or dots in between the numbers?
Try this little experiment out yourself:
Go out into the real world and try remembering a phone number as you pass by it.
Then come back here to let JL know if he's crazy, or if his opinion could have merit to it.
WHAT LARGE BUSINESS LISTING AGGREGATORS SAY ABOUT PHONE NUMBER SEO
We've contacted dozens of major business listing aggregators about the use of parentheses in phone number formatting.
These are the giant data-mining companies that collect and publish your business information, whether you know about it, approve of it or not.
Here's what some of them had to say.



Infogroup
On the Express Update site, the phone is displayed with parentheses and spaces/hyphen: (402) 000-0000.
Acxiom
Business listings' telephone number format is standardized by local phone and directory carriers and services. Business owners that sign-up to manage their listing via Acxiom's MyBusinessListingManager self-serve portal and directory service, enter their business phone number into a form that uses parentheses around the area code and with the exchange-number and last 4-digits separated by a hyphen.
Foursquare
Foursquare businesses that are based in the United States and supply a phone number automatically have the area code placed in that format.
Bing
Bing follows a certain format and it is by design wherein the phone number showing on the live site has the area code which is enclosed with parenthesis then the phone number. What have you experienced when Googling your own business? What advice would you like to share with us? Leave your honest feedback below and you'll get a reply almost immediately.
What have you experienced when Googling your own business? What advice would you like to share with us?
Leave your honest feedback below and you'll get a reply almost immediately.