Does Phone Number SEO Matter with Dots or Dashes?
When it comes to the topic of search engine optimization there are many people still fighting over the value of this service, as some say that SEO services are dying while others still utilize it as a viable marketing method.
An SEO company such as Boylan Point Agency in Santa Rosa, CA, still receives a lot of business, providing effective solutions to modern day search engine optimization.
SEO Knowledge is Powerful
Yeah, what a cliché, right? However, clichés exist because of the truth they hold. Many people dwell into a variety of different questions regarding SEO while not understanding basic concepts.
For example, a frequently asked question we receive when asked about our SEO services is whether or not there is a difference in using dots or dashes in the Phone Number in the About Us/ Contact page, or in the domain name.
The truth is that it does matter. Think about it.
How do you search online for a phone number?
Do you use dots or dashes in between the numbers?
Do you use parenthesis in your search?
Go ahead and search for a phone number in 3 different ways; with parenthesis, with dots and then with dashes.
Here's what we found when searching our phone number with and without dots and dashes.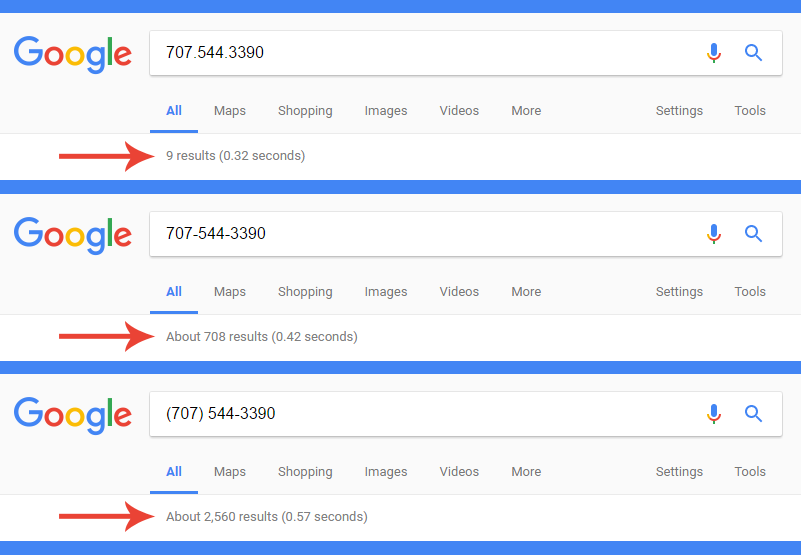 This goes to show how important your NAP is when submitting your local business to local directories.
NAP stands for Name, Address, Phone Number.
NAP is critical for business rankings in the local organic search results.
Google takes your NAP data into account when determining which local listings to show for geo-targeted searches.
Debunking SEO Misconceptions
We also want to tackle the view of skeptics regarding the future of SEO services.
The fact is, in the current state 93% of the people have some kind of a search engine as their home page.
Now for self-explanatory reasons, Google holds the majority of the market, since its search engine is most highly advanced.
When thinking about whether to spend money on AdWords or SEO services, we recommend that you do both.
In case you don't have the necessary budget, then go for the search engine optimization as around 70% of users completely disregard paid ads.
While that info is a year old and those figures are most likely a bit lower due to Google changing the way ads look, it is most likely still more beneficial to invest in SEO
Other SEO Facts
Boylan Point Agency is a local SEO company, also providing website design in Sonoma County, that provides you with the needed solutions to reach the first page of results in every engine.
Now that is quite important, don't you think? Keep in mind that 75% of the users never go beyond the first page.
Compared to social media marketing, search engines still bring about three times more traffic to your website, making it the number one marketing method leader.
Not only that, but conversion rate much higher as well.
A person who saw your ad in Facebook is about 1.7% likely to purchase your product or services while those, that come in from Google have about 15% chance.
That is a tremendous difference!
Understanding simple SEO facts plays a huge significance in building a proper, sustainable SEO strategy and in case you have any questions regarding the topic of SEO in Santa Rosa, don't hesitate to contact us at (707) 544-3390.