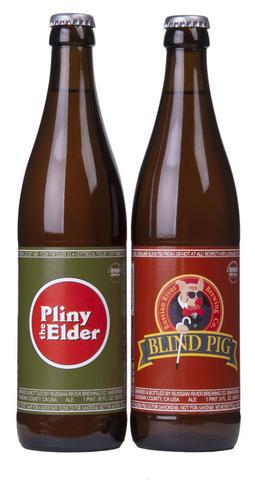 The tangy aroma of hops wafts through the parking lot, welcoming patrons to enjoy a cold brew before they even reach the door of Sonoma County's esteemed Russian River Brewery. Entering the gleaming establishment, you are instantly greeted by the buzz of friendly chatter at the bar, and frosty pints of amber liquid glinting in the sunlight. 
More than just impeccable beer, the delicious ales at the Russian River Brewery also come with a history as unique and vibrant as the flavors found in their signature brews. Owned and operated by Vinnie and Natalie Cilurzo, a husband and wife team; what once began as a small operation, brewing beer in the garage of their Temecula California home, has grown into a multi-million dollar industry with fans across the globe. 
Vinnie and Natalie began their journey as brewmasters way back in 1994 with Blind Pig Brewing Company, while successful, the venture was limited, and it wasn't long before the creative couple began searching for a position where they could expand. Their search brought them to a role with Korbel Champagne Cellars in 1997 to craft specialty beers at their new brewery, Russian River Brewing Company. For the next six years, the Cilurzo's set the bar high for super hoppy, Belgian-inspired beers.
Their talent and passion for the craft were evident, so much so, that when Korbel decided to remove themselves from the beer industry in 2003, they happily transferred the rights to the Russian River Brewing Company name and all recipes to Vinnie and Natalie. 
Branching out on their own, the Cilurzo's created a business plan and got to work building their dream pub with the financial investments of 30 friends and family members backing them. As the company grew, they felt the need to expand their marketing services, which includes their current website, that the Boylan Point has had the honor of maintaining since 2015. 
It has now been sixteen years since breaking out on their own, and it is safe to say the venture has paid off; not only have their beers won dozens of awards, but they have been named Brewery and Brewmaster of the Year, twice. 
In 2018 the company had the opportunity to expand, constructing an 85,000 square foot brewery and pub in Windsor, which our team at the Boylan Point are proud to be building the new website for. The entertaining and informative site is sure to play a vital part in Russian River Brewing's continued success by highlighting all of the new features available at their Windsor location, including tour bookings, information on the brews, and fun events! 
We consider ourselves truly fortunate to work with the team at Russian River Brewing, and if you are ever craving a cold beer whose long history of success speaks for itself, we would highly recommend visiting Russian River Brewing Company. However, before visiting one of their locations, be sure to marvel at their beautiful website and catch a sneak peek of the immaculately crafted IPA's and ales awaiting your impatient taste buds!
Part of our Client Corner series showcasing small business owners in the Bay Area.