Three Social media platorms to think About
When you say "social media," most people instantly think of Facebook, Twitter, and Instagram. Quite a few people will also point out LinkedIn, TikTok, and Snapchat. But there's a lot more out there, and some of them can even help you to find the right audience.
Let's look at three platforms that people don't talk about too much, but might reach a customer base that you're looking for.
The first platform to consider is NextDoor. Created in 2008, it was designed as a hyperlocal social networking service for neighborhoods, giving users the ability to share messages and find nearby businesses easily. For a local business, this provides a vital service in the form of being able to narrowly target people that are close-by your business. In addition, there is a Craig's List-type sales section that could be useful for selling small-scale inventory you need to clear out.
The biggest problem with NextDoor is that if your business covers an area greater than thirty miles in radius and you're not a major ad buyer, you'll have to create multiple accounts to cover the territory that you're working in. Also, NextDoor has earned an unfortunate reputation as a "snitch" app due to previous scandals about reporting "unwelcome" people. This might reduce the number of potential customers that would be looking at this platform.
The second platform to look at is Pinterest. Created in January 2010, Pinterest is the online equivalent of a scrap book or pin board. You can find photos and images on Pinterest or take your own, and pin them to your own boards. You can create multiple boards and have an unlimited number of boards you can post on. If you're a business with a lot of visual items-home remodeling, fashion, artwork-you can easily post a lot of pictures of your products. And, you can include tags with your information in them, which increases your search engine presence.
Marketing
that works
Take advantage of 20+ years of experience
At Boylan Point, we have the tools to create an effective marketing strategy that targets your business goals. Allow us a few minutes of your time and we'll show you a different kind of marketing agency. Guaranteed.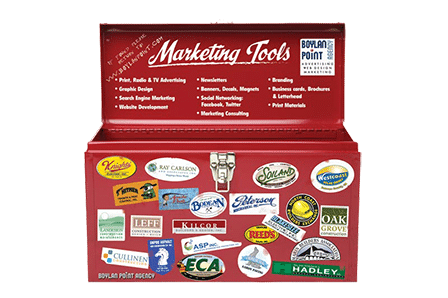 Pinterest has a few problems. First of all, the audience demographics tend to trend towards females, with 77% of the user base being female. (There is an advantage in this, if you're marking to expectant or current mothers. There are quite a few on Pinterest.) Second, Pinterest uses automated copyright tools to prevent the posting of copyrighted images and your photos might be incorrectly removed for copyright violation. There is an appeals process, it just takes time and that is always valuable.
Finally, we have Reddit. Created in 2005, Reddit serves a number of purposes-news story aggregation, content rating, and message board. Famous for the ferocity of arguments on various topics, social media, and AMA (Ask Me Anything) postings from famous people, Reddit offers the ability to become very visible in the community for people that can provide good value.
The problems with Reddit are the same as it's advantages-you have to be a member of the community to avoid being downvoted into oblivion. People will know if you're just there to flog your products, so you have to dedicate time to establishing yourself as a member of the community. This also means that you can't just casually post, either. In many ways, you must establish yourself as a brand on Reddit. In addition, your content has to be entertaining, so that takes more time and effort. But, if you can do that, there is a possible market that you can be the first one in.
These three platforms are not the most common and you might not think about them when planning your social media campaign, but they are worth considering. They have niches that many people are not thinking about when they are creating their campaigns. And, if you want to set up your campaign on one of the less common platforms, we're here to help. Contact the Boylan Point today about a consultation, and let's get your social media presence to the Boylan Point.
2525 Cleveland Ave, Suite G
Santa Rosa, CA 95403