A backlink, simply put, is a link from one website to another. While this sounds simple, backlinks are one of the most important things that Google uses to figure out your page's rating. A backlink serves as a vote of confidence in your website-the more of them you have and the more authoritative the site that is hosting them, the better your website seems in comparison to others.
There are four big factors in a good backlink. One of these factors is exclusivity. If a website mentions your website-and it also mentions your competition on the same page-your overall score is going to be lower than if just your website was mentioned. So, if you can try to get just one link on a page, that links directly to your website, that is much better than being on a webpage that has multiple references to people in the same category as you.
The link text needs to be unique to the webpage itself. A vague "reference" in a sentence about a product isn't as good as a link that directly mentions your website or relevant keywords of the text itself. For example, if you're an ice cream shop that makes custom flavors, a single comment on a website with a link isn't as good as the same website both linking and mentioning your Quadruple Ripple Fudge Chocolate Ice Cream by name.
Marketing
that works
Take advantage of 20+ years of experience
At Boylan Point, we have the tools to create an effective marketing strategy that targets your business goals. Allow us a few minutes of your time and we'll show you a different kind of marketing agency. Guaranteed.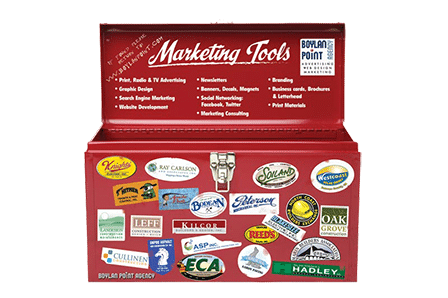 Another major factor is relevance. Like ordering a pizza and getting a free walrus, it doesn't matter how good the walrus is…you're not there for that. You're there for the pizza and the walrus is a distraction. So, if you're an ice cream shop website, backlinks from a music shop aren't as good as backlinks from a restaurant in the area, or from a page that is talking about the best dessert shops nearby.
The final factor is how natural the links are. Google knows if the page links are sponsored in one way or another and if the link on the webpage is relevant or not. This is important because Google and other search engines have gotten very good about filtering out SEO scams such as duplicate content and hiding links. Deliberately trying to "salt" links to your websites in other websites is very difficult and gets you in trouble when you're caught.
So, when looking for people and places to set up backlinks with, you need the four factors-exclusivity, uniqueness, relevance, and being natural-to balance out when exchanging links and references. This is where the experience of a marketing and social media company like Boylan Point comes in handy. We know how to make the most of every link you have, and we'll help you find new ways to get your product out there. 
Contact us today, we're here to help.
2525 Cleveland Ave, Suite G
Santa Rosa, CA 95403