What Do All These Terms Mean?
When you ask questions about marketing, a lot of terms are brought up. It's a word salad of three-letter acronyms (TLA) that don't make any sense. What exactly does SEO do? Why are you wanting to have a CTP setup? And, we can't forget the ever-popular if obscure PSP.
In short, what do all of these terms that are thrown around mean?
Today, let's talk about five abbreviations, and how they relate to marketing. 
SEO–Search Engine Optimization. Search engines work by using what is called a "spider" to find how the links between web pages work with each other. The web pages that have the most organic connections or linkages show up first on your searches, which means that web pages that have the most relevant connections-both internally and externally-will show up higher on search engine results.
This has been a part of a long-running contest between website developers and search engine creators, one side trying to figure out how to engineer an artificially high score to get their web page higher up the scores and the other figuring out how to rebuild the spiders so that the score is not artificially engineered.
SEM–Search Engine Marketing. This is what most people think of when they think of "search engine marketing"-the use of paid advertising to increase the prominence of web pages in Search Engine Result Pages (SERPs). Like SEO, SEM uses a number of different techniques, such as relevant Call To Action (CTA) content, Pay-Per-Click (PPC) advertising that encourages higher placement in exchange for the search engine making money every time someone clicks on the link, and a number of other methods to get the web page greater prominence.
This can include SEO, where the website's content and links can help drive up the website's score on search engines. SEO uses CTA content as a part of SEM, which creates a higher score when search engines look through your web pages.
Marketing
that works
Take advantage of 20+ years of experience
At Boylan Point, we have the tools to create an effective marketing strategy that targets your business goals. Allow us a few minutes of your time and we'll show you a different kind of marketing agency. Guaranteed.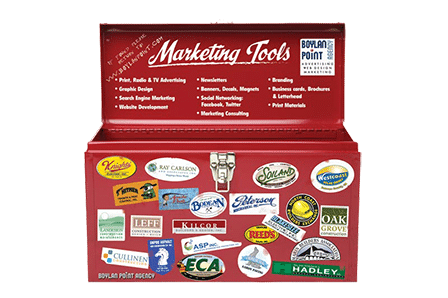 PSP–Play Station Portable. Developed by Sony Entertainment in 2007, it was designed around the proprietary Universal Media Disk (UMD) format, with saved games on the Sony-proprietary Memory Stick flash drive. While it was considered to be a technically superior platform to the Nintendo DS-with the added advantage of being a media player of both UMD movies and downloaded media files on the Memory Stick-the PSP would be replaced by the Playstation Vita in 2014, which could either download games or use a proprietary cartridge. This was due to the higher price point of the system, the lack of third-party game support and the ability to create UMD media outside of Sony's control, and the general bulk of the system.
One of the very important lessons of the PSP and VIta for anybody looking to move their product is the failure to follow up in secondary markets. For video game systems, that secondary market is third-party games development, a problem Sony has always had with-not just the PSP and Playstation Vita, but the Playstation 3 console as well.
CTR–Click-thru rate, which is a common performance metric for how an online campaign works. Calculated as a percentage of how many people actually click on the ad or link versus the number of times the ad itself appears, these numbers sound astonishingly low, but are balanced out by the sheer number of times the ad appears. 1% might seem like a terrible number, but when that means one out of one hundred people are clicking on that link, and that response rate is average for most advertising campaigns, not just online ones.
CTR is a very important performance metric, and it's easy to have other companies try and oversell you on what your CTR will be.
GMB–Google My Business is the former name for what Google now calls Google Business Profile, where a business can be verified and placed on Google Maps as a validated business. With this validation, you can link photos, receive reviews on how your business is doing, connect your website to a Google listing, and make the most of Google's various metric tracking and analytics tools for your business.
All of these things are important tools in the marketing of your business (with even the PSP being a good example of what not to do). And with the help of the Boylan Point Agency, we can work with you to establish a marketing plan and setup that works the best for your business. This could include online marketing, it could involve radio and TV ads, and it could even include revamping your website.
Contact us today, and let's take your business to the Boylan Point.
2525 Cleveland Ave, Suite G
Santa Rosa, CA 95403