So, what is crowdfunding? You've heard the term thrown around, from Brandon Sanderson's $41.7 million dollar Kickstarter campaign for four new books to the $12 million dollar funding of the Travel Tripod by Peak Design. But what is crowdfunding?
Crowdfunding can be seen as raising venture capital, writ small. Rather than try and get a small number of investors to put in a lot of money on a project, somebody tries to get a large number of people to contribute a small amount of money into a finished product. This can be very useful for someone who is trying to release a relatively "niche" product, or is trying to create a new product of some kind.
One of the biggest issues with crowdfunding is that it is an investment. Which means that you could lose your money if the person doing the crowdfunding fails to come through with a final product of some kind. In most cases, you won't be able to get the money back, as the crowdfunding platforms merely handle bunding the money for the person setting up the crowdfunding campaign.
Doing crowdfunding is not a substitute for not having a good business plan or knowing how you're going to make the final product. Indeed, one of the best things you can do when planning on a crowdfunding campaign is to use crowdfunding to turn a viable prototype into a finished and produced product.
Marketing
that works
Take advantage of 20+ years of experience
At Boylan Point, we have the tools to create an effective marketing strategy that targets your business goals. Allow us a few minutes of your time and we'll show you a different kind of marketing agency. Guaranteed.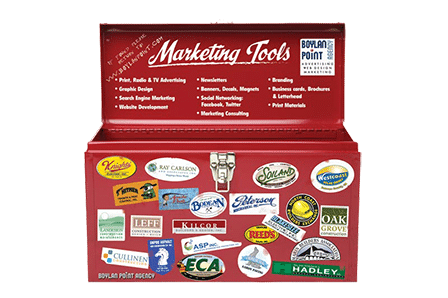 When deciding on a crowdfunding platform, you have a number of choices. The three biggest ones are-
Kickstarter-This platform is one of the most well-known and largest of the crowdfunding platforms out there. It functions on a "all-or-nothing" model, where you have to raise the amount requested or more before Kickstarter will release the funds.
IndieGoGo-The next largest crowdfunding platform, IndieGoGo has earned a reputation for helping bring projects to life that have failed on Kickstarter. The funding model of IndieGoGo can be chosen as either an "all-or-nothing" model or accepting partial success and partial funding for a project.
GoFundMe-This platform is commonly used for charitable contributions and for small levels of fundraising. What makes it popular is that for charitable events, they make things easier for the end donor.
There's a lot of projects out there, and it's very, very easy for yours to get buried under what is made. So, why not get your project at the top of the pile of people wanting to know more about what you do?
This is where the Boylan Point Agency can help. We can help you to set up a web page or landing page for your product, provide marketing and social media support for the campaign, or even create branding materials for your company. Contact us today and let's get your product out there.
2525 Cleveland Ave, Suite G
Santa Rosa, CA 95403