what IS SEO COMPETITIVE ANALYSIS?
A term people throw around is "SEO Competitive Analysis," which sounds like it's complicated and challenging to do. Actually, it's simple-looking to see how search engines rank your website when people search for it, in comparison to other websites. When Google or Bing figures out where your web page is, in terms of both how accurately it fills requests and how other web pages are in fulfilling the same requests, this determines where your page is ranked.
Doing a competitive analysis allows you to figure out what your customers will see when they look for your website. And, it's not just your direct competitors, the people you think that you're competing with. Figuring this out is tricky, as you have to sort through a lot of keywords and learn what they are talking about. This is what makes tools like SEMRush and MOZ so important for serious SEO content analysts, as it does this leg work for you. It's also why you pay someone like BoylanPoint to do all of this analysis for you.
Once you know who your competitors are, you can start to figure out where you can improve things on your website to improve your SEO score. One of the first things you should do is create new content for your website-a blog that you regularly post to, new information on your products, that kind of thing. The goal here is to create organic traffic because trying to game the search engines is something that everyone and their cat is trying to do.
Marketing
that works
Take advantage of 20+ years of experience
At Boylan Point, we have the tools to create an effective marketing strategy that targets your business goals. Allow us a few minutes of your time and we'll show you a different kind of marketing agency. Guaranteed.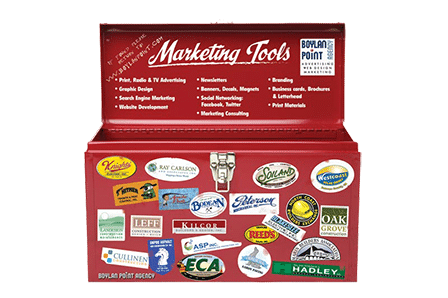 Another strategy that you can do with your website is to deal with anything that makes loading your website slow down. From broken links to poor sitemap structures to using too many external links for media content, fixing these issues will help to increase your SEO scores and future competitive analysis will show where you have been fixing things.
In addition, you need to learn who your competitors are, and they aren't always the first people you think of when you think of competitors. It is entirely possible that for the right combination of keywords, a small donut shop could be getting better SEO scores for some of the things they make. Learning how your competitors are getting better scores can help to improve your scores.
Adding backlinks-links to other websites can boost your rankings. Because the web spiders use both the number of links and their relative rankings to determine your place in SEO scores, the more backlinks and the more relevant backlinks will help to increase your rankings. So, look for relevant backlinks when creating and renovating your website.
All of these will help improve your SEO scores, and these are all things that Boylan Point can do for you and your website. If you need to add social media to your marketing campaign, we're here to help. Does your website need to be completely revised? We can do that too. Contact us today for a consultation and free SEO audit.
2525 Cleveland Ave, Suite G
Santa Rosa, CA 95403