How we started a creative advertising agency
Our client diversity is an asset to our clients, because there are opportunities to pass along best practices of one industry to another.
Back in 1997 Tom Boylan received a call from a friend asking if he was interested in talking with the owner of a Dodge dealership who was looking for a new creative advertising agency. A brief meeting took place where some clever ideas were shared.
The Boylan Point Agency opened its doors 30 days later with Santa Rosa Dodge as its first client.
It did not take long to bring in our second client, Buffalo Billiards, as another cornerstone that remains a client today.
Over the years, our bay area marketing agency has acquired many more clients and can take pride in having a diverse base of corporations, member-based associations,  retail businesses and non-profit organizations. Our client diversity is an asset to our clients, because there are opportunities to pass along best practices of one industry to another.
marketing
that works
Take advantage of 20+ years of experience
At Boylan Point, we have the tools to create an effective marketing strategy that targets your business goals. Allow us a few minutes of your time and we'll show you a different kind of marketing agency. Guaranteed.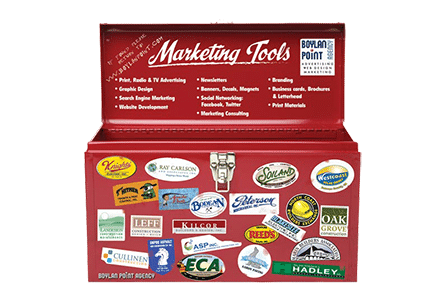 Creative website design in Sonoma County and the Bay Area
To date, our primary client base is located in the San Francisco North Bay Area. We have expanded our local marketing agency by delivering our services and products throughout California, Oregon and Nevada. We also provide marketing materials for international distribution and promotional products. We have many cost-saving solutions for those who want to have the materials created locally for a foreign marketplace.
The Boylan Point team creates brand awareness for our clients through a variety of real-world media and online platforms. Our graphic design services include logo development, collateral materials and marketing materials from point of purchase to newspapers, magazines and online media. Working with production teams from the Bay Area and beyond, we have developed videos for commercials, corporate videos, and web videos. Our production includes creative development and production from concept to script.
Real-time changes to your site when you stop by our local office
Our Santa Rosa Web Design team is responsible for the development of e-commerce, institutional sites, and general site development. Platforms we work with include WordPress, Drupal, Joomla, and MODx, to name a few. We build new websites and we service websites others have built. We started building sites in 2004 and have progressed with each new launch. The team takes great pride in offering a very hands-on approach to your website.
Search engine marketing programs include options for Search Engine Optimization (SEO). We pride ourselves in being one of the top SEO companies in Santa Rosa with a highly competitive and effective seo campaign. Some clients need more than others and we do not place every client into the same program. We offer social media marketing programs as well, and like the SEO programs, it is always best to communicate with us and let us help create a plan that is specific to your needs.
Our marketing agency has a strong public relations perspective, with our founder having more than 10 years of experience as a contract columnist/editor for the New York Times-owned Press Democrat and several additional years as a business columnist for the Gannet-owned Marin & Sonoma Gazette. Our press relations incorporates both conventional media and web-based media. If we cannot get you published in other platforms, we will create a publication of your own.
Creativity isn't confined to larger markets. Our agency is located in the heart of Wine Country and that alone should prove how clever we are.